Are you planning an event that you want to be a little different? Perhaps a touch of greenery could do the trick. Or maybe you read our previous blog about the benefits of investing in biophilic design? And now you're wondering where to start on your biophilic design journey? We can help you with our top five ways to add some green to your venue or event.
There are many different ways to incorporate plants and flowers into your space, but here at Fleurtations, we love plant features which are more than just pretty. We believe that plant displays can provide memorable experiences, purify the air, provide health benefits and even help to tackle climate change. In fact, it's not just us – science says so too.
Here are our favourite ways to bring your space to life this Summer:
1. Add some window boxes
Window boxes are the perfect addition to any venue. Spread the plant-love and let your passers-by see your displays too! Who knows, you might even catch their eye and tempt some of them inside. We can create bespoke window displays and boxes to suit any size and budget. Want to keep it rustic and seasonal or create a tropical vibe? We can achieve the look you want – and maintain it too!
 Window boxes are one of our most popular services, and it's not hard to see why! Here are some of our favourite recent installations.
2. Perfect event backdrop? Go green and opt for a flower wall
With the climate crisis escalating, it's more important than ever to choose sustainable alternatives wherever we can. If you are looking for a backdrop for your venue or event, ditch the single-use plastic and choose a living green wall. Your guests will be happy and you will have done your bit for the planet.
And the more photo-worthy, the better. Guests are always looking for the perfect selfie spot – so why not make your lush, green wall the backdrop for everyone's 'about last night' picture. Our flower walls are the perfect photo-worthy addition to any space or event and are custom designed just for you. Contact us today to find out more about this service.
3. No floor space? Try hanging pots
There is no better way to create an immersive vibe for any event than to be truly surrounded by greenery. Hanging pots can help to segment space and make a room feel more dynamic and interesting. Strategically placed hanging pots can even help facilitate social distancing, whilst still keeping an open-plan feeling.
Hanging pots are unique to every customer and space and tailor-designing these displays is something we love to do. Have an idea in mind? Why not get in touch today to find out what Fleurtations could do for you?
4. Living walls are more than a trend
Bring the outside in with a biophilic living wall. The perfect way to add green to your space, living walls don't just bring life and vitality to a space, they also boast health benefits. Living walls sustainably increase air quality and boost oxygen in a room, providing you with a completely natural air conditioning system as Covid restrictions ease.
Could a living wall be the wow-factor in your space? Read more about living walls on our services page.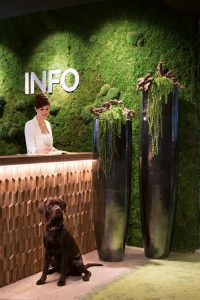 5. Make your guests feel special with flower archways
Who doesn't want to make their entrance through an archway made of plants? At Fleurtations, we know how important it is to create memorable experiences for your visitors and we have the expertise to bring these experiences to life. 
Event trends are always moving forward, and while the donut wall and ice-sculpture have everyone's attention – you just can't beat the humble yet chic flower wall. Not only do guests love a surprise – one that is low waste and all natural is always a winner. 
And with the choice of colours, textures and leafyness being endless – you can create something truly unique which people will be talking about long after your event. If you're planning an event and want to get everyone talking, contact us about installing a bespoke flower wall in your venue.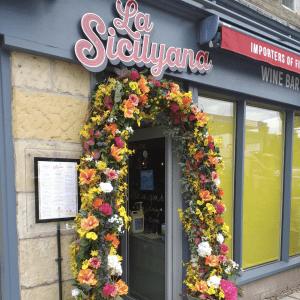 If you are interested in finding out more about how to incorporate some green into your venue or event get in touch today. We have plenty of expertise when it comes to biophilic design and how to make your venue stand out.